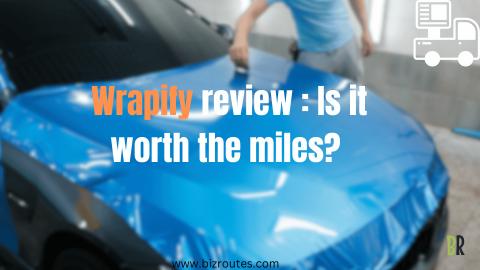 Wrapify Reviews: Your Comprehensive Q&A Guide to Decide if It's Right for You
In my recent article, I explored the intriguing world of making money with your vehicle, whether it's through platforms like Turo or Getaround. These options provide a unique avenue for generating income without the traditional 9-to-5 grind. But now, we're shifting gears to explore a different approach – Wrapify reviews.
As Ayn Rand wisely stated, 'Money is only a tool. It will take you wherever you wish, but it will not replace you as the driver.' Wrapify embodies this philosophy by requiring you to actively put miles on your vehicle. In this article, we'll dive into the world of Wrapify: what it is, how it works, and whether it's worth your time and your vehicle's mileage. So, for now, let's turn off that engine and conserve those miles as we embark on this journey.
" Money is only a tool. It will take you wherever you wish, but it will not replace you as the driver"

Wrapify reviews: What is Wrapify, and how does it work?
---
What is Wrapify?
Wrapify is a dynamic advertising technology company that specializes in turning personal vehicles into mobile billboards. Founded in 2015, Wrapify has become a leading player in the emerging field of on-vehicle advertising. Wrapify has ushered advertising into a new era, and its approach is nothing short of ingenious. In some ways, it's reminiscent of how Uber transformed the transportation industry. Wondering how? Well, consider this: Uber built a billion-dollar enterprise without owning a single vehicle; they leveraged the cars people already had. Wrapify operates on a similar principle. Instead of ferrying passengers, individuals sign up with their own vehicles to carry eye-catching advertising for brands. It's a hustle that benefits everyone involved—drivers get a piece of the pie, advertisers get their message out there, and, in the end, it's a win-win for all parties right?
How Does Wrapify Work?
Wrapify's business model revolves around partnering with a diverse range of advertisers, such as local small business to big brands, all looking to expand their market presence through affordable and eye catching advertising campaigns. Central to Wrapify's operations is their proprietary technology platform, which uses algorithms and data analysis to connect advertisers with suitable drivers within specific geographical areas. Upon creating a partnership, Wrapify carefully creates eye-catching, brand-conscious vehicle wraps or decals that are custom-tailored to each driver's vehicle so they effectively deliver the advertiser's message.
Wrapify's got a bustling community of over 420,000 eager folks who are all about boosting their monthly income while letting their cars do the talking as mobile billboards. They're not reaching out through traditional channels but prefer the simplicity of a mobile app for all the nifty communication.
Once these cars get wrapped up in those attention-grabbing ads, they magically transform into mobile billboards, hitting the road across specific areas. Think of it as an ad on wheels during your regular daily drives. It's all about giving the ads a chance to shine as you go about your usual routines
To measure campaign effectiveness, Wrapify harnesses GPS technology, enabling advertisers to access real-time data on impressions, reach, and engagement. Drivers, in turn, receive compensation based on factors like the distance covered, campaign duration, and route locations. Once a campaign concludes or fulfills its objectives, Wrapify promptly removes the advertising wraps or decals from the participating vehicles, maintaining the fluidity of their dynamic advertising model.
Wrapify reviews: Is Wrapify available in my area?
---
Wrapify's nationwide presence is a standout feature – it's a must to guarantee the ultimate exposure for their advertisers and partners. Imagine starting a side hustle and trying to grow your business without money -Hard right ? With Wrapify, you can start earning if you already own a vehicle without the startup cost of a business.
Wrapify reviews: Can you have multiple vehicles?
---
When I first discovered Wrapify, I couldn't help but wonder: what if I could have two or three vehicles out there, all earning me money? Picture this – my wife's car and my son's car, raking in an extra $1500 a month for us. However, here's the catch: with Wrapify, if your vehicles are registered to you, it's limited to one vehicle per driver.
Wrapify reviews: How much can I earn with Wrapify?
---
So here is the cool part wrapify has 3 models currently, you can choose to wrap your car fully like 360 or 270 which covers the bottom part or 180 which covers like the doors and back windshield each one determines how much you can earn, you can click here to test it out
Here's their break down
360 Covering - $264 - $452 per month estimate
270 Covering - $196 - $280 per month estimate
180 Covering - $181 - $280 per month estimate
Wrapify reviews: What are the requirements to join Wrapify as a driver?
---
First things first, you'll need to download the Wrapify app onto your smartphone. You can find this app in your phone's app store, whether you use iOS or Android. It's the only way to get started with Wrapify, once downloaded you will need to agree to Wrapify's Driver Terms and Conditions. This might also include a basic background check and some info about your vehicle such as some photos of your car, this is important to determine if wrapify can use your vehicle to disapky wraps on it, Oh, and also your vehicle should be from the year 2010 or newer to be eligible for this exciting opportunity.
Now, here's where the rubber meets the road, quite literally! To get started, you'll need to clock in at least 50 qualifying miles during your regular daily commute. This helps Wrapify assess your eligibility for campaigns and offers.
As your miles rack up, you'll start receiving campaign offers that match your profile and location. Take some time to review these offers and select the ones that align with your preferences.
Next up, you'll have to pick a location, date, and time for the installation of advertising materials on your vehicle. This ensures everything runs smoothly when it's time to wrap your car.
On the chosen date and time, it's time to make a pit stop at the selected installation location. Drop off your car there, and the Wrapify team will take it
Now, here's the fun part – your car is now decked out with advertising materials, and you can start earning money as you go about your daily routes. It's like turning your regular commutes into a money-making adventure!
Keep in mind, Wrapify takes vehicle condition seriously. Certified Installers will conduct thorough inspections before and after the wrap application and removal. If there are any changes to your vehicle's condition reported after the wrap removal, Wrapify will work with you and the installation facility to figure out the best course of action
What is the sign-up process like?
---
The process is refreshingly straightforward, and that's the beauty of it. It boils down to a three-step dance: download the app, set up your profile, and hit the road. Now, does this guarantee you'll get an offer every time? Well, probably not, but here's the kicker – you've got absolutely nothing to lose, except maybe a few extra miles on your odometer!
Wrapify reviews: Are there any upfront costs or fees to join Wrapify?
---
Unlike any other platforms that make you pay a fee to join for example when i did my recent article on turo vs getaround for people looking to rent their vehicles getaround charges a monthly fee which kinda makes it annoying - i personally hate paying money to use my assets on someone else platform i mean i am already giving you vehicle! But back to wrapify reviews.. The platform advertise Earn hundreds per month. N upfront cost. Fast, simple and easy –So to answer NO!
What types of advertisements will be placed on my car?
---
When it comes to the types of advertisements that could adorn your car with Wrapify, you're in for a diverse mix. Wrapify partners with a wide range of advertisers, including some major players like Uber, Zoom, Bud Light, Pepsico and CheapOair. These big-name brands often leverage Wrapify to expand their reach and create eye-catching advertising campaigns that garner significant attention.
But here's where it gets interesting – it's not just about the big names. Wrapify also opens its doors to local businesses eager to advertise within their communities. These local gems can seize the opportunity to boost their visibility and connect with potential customers right in their own neighborhoods. So, while you might have the chance to showcase brands that everyone knows, you could also be a valuable advertising space for your local bakery, auto shop, or cafe. It's a fantastic blend of both the national and local advertising scenes.
Can I choose the ads I display on my car?
---
Can you pick and choose which ads to display on your car with Wrapify? Well, here's the deal: Wrapify operates on an advertiser-dependent model. What this means is that you'll receive offers to participate in campaigns when advertisers want to promote their products or services in your campaign zone.
It's a bit like being a star in your own show, but Wrapify lets the advertisers take the lead. When a campaign aligns with your location and driving habits, you'll receive an offer. Now, it's up to you to decide whether to accept or decline it. So, while you might not have full control over which specific ads you display, you do have the freedom to choose which campaigns to participate in - I mean it is your car at the end of the day, will they remove you who knows?
Wrapify review: How does Wrapify calculate earnings, and when do drivers get paid?
---
Wrapify's campaigns are meticulously tailored to specific geographical areas, strategically creating campaign zones in perfect harmony with an advertiser's goals. These zones are typically centered around the advertiser's preferred town or city, extending outward to cover approximately a 50-mile radius.
Now, when we dive into the realm of compensation, it all boils down to the miles you clock within these campaign zones. But here's the intriguing twist – the value of those miles varies and is influenced by factors like the time of day and the traffic density on the road.
As mentioned earlier, there are three tiers of coverage: light, partial, and full, each offering its own compensation structure. But here's where the rubber meets the road in terms of your freedom to drive. You're absolutely free to hit the road to your heart's content. Nevertheless, when it comes to compensation, Wrapify extends coverage to approximately 25 to 35 miles of your daily commute.
This breaks down to 25 miles within the blue campaign zone and an additional 10 miles in the red zone every day. It's a well-balanced arrangement, ensuring that you receive fair compensation for both your time and mileage while simultaneously helping advertisers achieve their objectives within their designated campaign zones.
However, here's the twist – without an advertiser's wrap on your vehicle, you won't be compensated for simply driving around without active campaign offers or wraps. It's all about the win-win synergy between your mobility and the advertising world!
Are there any potential downsides or risks to using Wrapify?
---
As stated in there website Wrapify has a trusted network of Certified Installers, exclusively utilizes premium 3M and Avery Dennison vinyl films. These high-quality materials are chosen for their exceptional characteristics, allowing for clean installation and removal without causing harm to the vehicle's original, factory-painted surfaces, in shorter term it comes out real quick but….
Let's address an important aspect regarding your vehicle's condition. If your car bears extensive damages such rock chips, dents, scratches, rust, or any history of accidents, repainting, or repairs, there's a possibility that your factory paint quality might be affected. It's not a 100% of damage, but it does increase the likelihood, and it's important to note that the company cannot assume responsibility for any further harm, but not to fear their installers do a a inspection both before and after the wrap is placed as well as removed.
Can uber's drivers use wrapify?
---
Yes, it might cross your mind initially. However, as you dig deeper into it, the suitability for Uber drivers starts to fade. Here's the deal: Wrapify compensates drivers based on their coverage zone, so if you venture outside of that area, you won't see any earnings.
Let's paint the picture. Imagine you're an advertiser keen on promoting your brand in Manhattan, New York. Now, let's say a passenger using Uber requests a ride to New Jersey. In this situation, yes, it does make you wonder why, as an advertiser, you'd invest in advertising in a location that doesn't align with your target audience. It's all about optimizing your advertising budget where it matters most, and in this case, it just doesn't add up.
How can I contact Wrapify for more information or support?
---
Another aspect that genuinely caught my attention with Wrapify is their impressively designed website. It serves as an invaluable resource for both brands seeking to advertise and drivers exploring this unique opportunity. What's particularly noteworthy is the presence of a live chatbox, where a responsive representative is readily available to assist you. For those interested, you can explore their website here: Wrapify Website.
To wrap this article up, we've thoroughly covered Wrapify, examining its strengths, weaknesses, the sign-up process, and the income potential. One aspect to consider is that if you venture outside the specified coverage area or exceed the daily mileage limit set by advertisers, your earnings for that day will cease. Wrapify relies on the most recent 50 miles driven to define your commute area. Therefore, if you haven't received an offer, it simply means there's no active campaign available within your recorded area.
However, it's important to stress that Wrapify is forthright about these limitations from the very beginning. Additionally, you don't necessarily need to drive 50 miles exclusively to secure an offer. You can keep the app running while you go about your routine errands within your designated zone, minimizing any potential downsides, but listen earning $250-$400 just to do your normal commute is really not bad and In essence, with Wrapify, you've got little to lose and plenty to potentially gain!
Hope you found this article helpful if so please give us a share!
---
---
---
Disclaimer
BizRoutes is an online advertising platform that showcases listings related to routes for sale and offers additional services such as a business-to-business directory and the ability to browse business brokers. Please note that BizRoutes is not a brokerage firm, and we do not provide advisory services. Any information published on BizRoutes is intended for informational use only. While we strive to ensure that the information provided on our platform is accurate and up-to-date, we do not endorse or guarantee the accuracy, completeness, or reliability of any content, listings, or information found on our platform.
Users should exercise their own judgment and perform due diligence when engaging in any business transactions or seeking the services of business brokers featured on our platform. Here at BizRoutes, we are not endorsed or sponsored by Wrapify or any other platform or service mentioned in this content.
BizRoutes cannot be held responsible for any decisions, actions, or outcomes resulting from the use of our platform. We strongly advise users to seek professional advice, conduct independent research, and exercise caution when considering any business transactions or interacting with business brokers listed on our platform. By utilizing BizRoutes, you acknowledge and agree that you are solely responsible for any decisions or actions taken based on the information and listings provided on our platform. We recommend consulting with qualified professionals and conducting thorough assessments before making any business-related decisions. Please be aware that the content on BizRoutes may change over time and may not always reflect the most current information or listings. We reserve the right to modify, update, or remove content from our platform without prior notice. By accessing and using BizRoutes, you agree to adhere to these terms and conditions and understand that any reliance on the information presented on our platform is at your own discretion and risk.
If you have any questions or concerns regarding this disclaimer or our services, please feel free to contact us for further clarification.