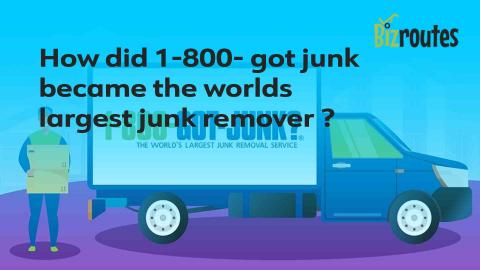 How did 1-800-got junk become the largest junk removal company in the world?
1-800-GOT-JUNK is a North American junk removal company that became popular due to its professional and efficient service, as well as its easy-to-remember phone number and catchy name. The company also differentiates itself by recycling and donating as much of the collected junk as possible, rather than simply disposing of it in a landfill. Additionally, the company's branding and marketing efforts have helped raise awareness and drive business. Overall, it has been a combination of factors that have contributed to the company's success.


Who owns 1-800-got-junk?
"1-800-GOT-JUNK?" is a North American junk removal company founded in 1989 by college roommates Brian Scudamore and Cameron Herold. The company began as a one-truck operation in Vancouver, British Columbia, Canada, and has since grown to become the world's largest junk removal service, operating in over 200 markets in Canada, the United States, and Australia.
The company's success can be attributed to its unique business model, which focuses on providing convenient and reliable junk removal services to both residential and commercial customers. The company's slogan, "We'll take anything, as long as it's not hazardous," reflects the wide range of items that it will remove, including old furniture, appliances, construction debris, and even vehicles.
One of the keys to the company's success has been its focus on customer service. The company's trucks are all marked with the company's logo and phone number, making it easy for potential customers to remember and contact the company. Additionally, the company's team of professional junk removers are trained to be friendly and courteous, and they always strive to leave a customer's property cleaner than when they arrived.
Another important aspect of the company's success has been its innovative marketing strategies. For example, in the early days of the company, Scudamore would drive around in his truck handing out flyers and approaching potential customers, but as the company grew, he realized the need to invest in more traditional forms of advertising, such as television and radio commercials, billboards, and print ads. Additionally, the company has used digital marketing, including search engine optimization, pay-per-click advertising, and social media marketing, to reach a wider audience and generate more leads.
In the last decade, the company has continued to expand its footprint and reach by adding more markets and launching more service offerings to its existing ones. Also, it has made strategic partnerships and acquisitions for the overall growth of the company.
The company has faced its fair share of challenges as well, including economic recessions, intense competition, and changes in consumer preferences and spending habits. However, through its focus on providing excellent customer service, its commitment to environmental responsibility, and its innovative marketing strategies, 1-800-GOT-JUNK? has been able to weather these challenges and continue to grow and thrive. Today, the company is a well-established and respected brand that is known for its reliable and convenient junk removal services, which is the right service for anyone who wants to get rid of their excess trash and clutter in a quick, easy and affordable way.

What is the key factor to growing a junk removal company?
There are many factors that can contribute to the growth of a company, but some key factors include:
Strong leadership and management: Having a clear vision and strategy, as well as the ability to execute it, is crucial for a company's growth.

Market demand: Identifying and addressing a need in the market is a key driver for growth.

Innovation: Developing new products or services, or finding new ways to improve existing ones, can help a company stay competitive and grow.

Sales and marketing: Having a strong sales and marketing strategy in place to reach and attract customers is crucial for growth.

Financial management: Having strong financial management practices in place, such as budgeting and forecasting, can help a company make informed decisions and manage its resources effectively.

Scalability: The ability to scale the business, whether it is through expanding to new markets or increasing production, is important for long-term growth.

Strong teams: Building and maintaining a strong, dedicated, and talented team can drive the success of the company.

Adaptability: Being able to adapt to changes in the market, economy, and technology is also important for a company to maintain its growth trajectory.


In conclusion, starting a junk removal business can be a profitable and rewarding venture. The demand for this type of service is consistently high, as people and businesses are always in need of help disposing of unwanted items. The business can be relatively low-cost to start, as it typically only requires a truck and basic equipment. Additionally, the industry is not highly regulated, which means it is relatively easy to enter and start a business. Another benefit is that, as the company grows, it can easily scale and expand by adding more trucks and hiring more employees. Furthermore, recycling and donating as much of the collected junk as possible, rather than simply disposing of it in a landfill, can also have a positive impact on the environment. Overall, starting a junk removal business can be a solid business opportunity with a good return on investment.