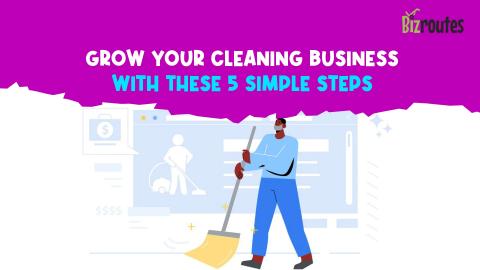 Grow your cleaning business without paying for ads (5 step system plan)
Starting a business is hard, from writing up a business plan to getting the money to buying the necessary equipment needed, but what's more challenging than all that is figuring out how to get clients for your cleaning business.
Most businesses fail because the business sales do not generate enough income to cover the cost of running the business, you have to pay for your working van insurance and cleaning equipment and it can be a challenge.
In this article I will introduce you to 5 ways where you can get more clients without spending any money, acquiring new leads can run you a lot of money, and sometimes that leads what even be worth the while, it's important to think outside the box when starting a new business, I mean yes don't get me wrong it's great to spend money on advertisements but that can be hard when you are a new business, its best to think like the client, where will you find these clients that may need your service?
---
Finding locations that may bring in leads
When I go to places like buying merchandise for myself or business I always stumble on paper ads, yes literally printed ads from your printer made from your very own desktop, nothing fancy or special just a brief description of the service you will provide and your business name and number below, small business owners of these places are usually very friendly and all you have to do is simply ask them for permission, they are a small business so they understand where you are coming from and chances are they will help you by allowing you to place your ads where it won't be in their way or in the way of their displays, it's a simple ad with a lot of potentials to get clients for your cleaning business!

1. Free cleaning for a referral:
Offering referrals to your clients or freinds is a great way how to gain more clients for your cleaning business, its easy, simple, and can be rewarding, and also can turn into a chain reaction of new clients, one after another, and the next thing you know you will need to hire more staff to keep up, that's great news right! but when is the right time to start asking your clients for referrals? The first cleaning service, second? Well, in my opinion, and experience None of these are correct, you should only ask for referrals if you truly believe the client is satisfied with your work, but how do you know when a client is satisfied with your work? The answer to that is when they become a regular client and that's when you can offer your deal telling them hey, how would you like to earn a free cleaning?
2. Local businesses:
Whether it is your barber, beautician, or even your local grocery store, these businesses all have their type of unique customers, if you have a moderate relationship with any local business from buying from them in the past or you are just a regular customer to them, you can always ask them if you can place your business cards somewhere in the store, by placing your business cards in these stores it builds you a little type of authority, a lot of customers walk in and out of these businesses, which means you can get access to a lot of potential future customers and the best part is you can place business cards in areas you want to attract clients for your cleaning business.
3. Cash and carry:
If you ever heard of a cash and carry you understand the amount of walking traffic these places have and if you didn't keep reading, cash and carry businesses are super wholesales dedicated to businesses and regular people that want to buy in bulk, but in here you would most likely target business customers, these can be restaurant owners, supermarkets owners, and even wholesale distributors, getting a business client for your cleaning business is great for you, they tend to pay more and look for a month to month contracts! As you walk in and out of these establishments there's usually a wooden board where people pin ads by the entrance, if you going to place your ad here makes sure it stands out, there are a lot of ads on it!
4. Discount for a review:
Being a business owner of a cleaning business, you're always looking for ways to get more clients. One way to do that is to get more online reviews. And one of the best places to get online reviews is on Google.
One of the best things about getting Google reviews is that they show up right on your business listing when people search for them. This means that potential customers can see what others have said about your business and make an informed decision about whether or not to contact you. Having positive reviews can help boost your business's credibility and increase its chances of being contacted, if you didn't set up a google my business you are missing out, but not all reviews are equal!
Getting a good review from a client is important, I used to offer a discount if my customers will take the time out from their busy schedule and leave me a review I would never tell them what to write I would just simply say ill give you a discount on your next order if you can leave me a review on Google, and it works miracles!
5. The 10 and 1 offer:
My favorite one, I call it the 10 and 1 deal when building a business you want to keep clients coming back, now there are 3 ways to do this,
One is by offering an affordable rate, the second is by providing top-notch service and the third is offering a deal, that's where this package comes in, you tell a client to keep all receipts, and every time they reach the 10th service request the eleventh one is free or you can even start it at 5 and 1 whichever works better, but this method is used by much many businesses around the world, major brands like Dunkin Donuts and McDonald's even use this on their mobile apps at times, so if you think this may help you get a client or keep more coming back then place this on your ad.
6.Bonus,Bonus! craiglist:
Craigslist is one place I still use up to this day, its one of the places we all went to when we needed to buy a used gadget, buy a used car, or find a service provider, yes I know I said free ways on how to get clients for a cleaning business on the title but you can advertise on craigslist for 5 bucks and it will last a whole month, with hundreds of millions of visitors a month you definitely can't go wrong here.
How to get client contracts
Have you ever wondered how to get a client in a contact? Wonder no more! In this section, we'll give you tips on how to make a good impression and snag that coveted client.
Getting clients in the contract is challenging not just for a cleaning business but for almost every type of business, people hate contracts and so do I, so how can we fix this issue? Well, I have 3 solutions:
Solution one, avoid client contracts completely and make it pay by service-based business, this makes a cleaning client feel more comfortable in taking using your service and they will most likely come back if the service is good.

Solution two, if the client wants a monthly service offer them an agreement, There is a lot of talk about agreements in the business world, but what exactly is an agreement? An agreement is a legally binding contract between two or more parties that outlines the specifics of the arrangement. No one gets hurt, you provide a cleaning service and they pay.

Solution three, making clients sign a contract and allowing them to cancel, we all understand people or businesses can fall into hard times and that's understandable, so how to make this work in your favor? Simple, place a paragraph in the contract where the client is allowed to cancel the contract with a 30-day notice, this makes the client feel better when it comes to signing
Conclusion: So we covered a lot, understanding how to get clients for a cleaning business is important and especially when you are just starting, starting a business can be hard and costly, but you need to think of ways to be creative and save money, utilizing the money that would have spent on wasted advertising can go to other stuff like buying better equipment for your business or hiring more staff, when your cleaning business starts to turn a profit and you are ready to expand your business you can then start buying ads, like googles ad words or social media marketing! Hope this article helps, lets us know on ways you got clients for your cleaning business or any business.
*Bizroutes is not providing legal advice...bottom line is you should always consider hiring a lawyer for your legal work*