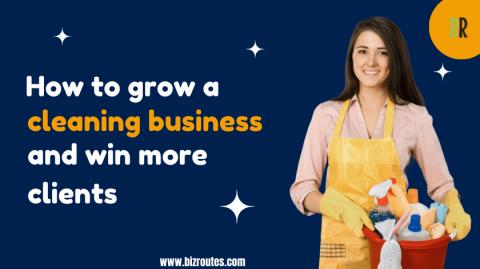 How to Grow Your Cleaning Business in 2023 (6 step system plan)



Starting a business is hard, from writing up a business plan to getting the money to buying the necessary equipment needed, but what's more challenging than all that is figuring out how to get clients for your cleaning business.
Most businesses fail because the business sales do not generate enough income to cover the cost of running the business, you have to pay for your working van insurance and cleaning equipment and it can be a challenge.
In this article I will introduce you to 5 ways where you can get more clients without spending any money, acquiring new leads can run you a lot of money, and sometimes that leads what even be worth the while, it's important to think outside the box when starting a new business, I mean yes don't get me wrong it's great to spend money on advertisements but that can be hard when you are a new business, its best to think like the client, where will you find these clients that may need your service?
Why is your first client so important?
---

Why is securing your first client crucial for your cleaning business, and why does doing an excellent job matter? Your first client can open the door to numerous opportunities. They can provide referrals, online reviews, and even allow you to showcase your work on social media like before and after pics. Additionally, their feedback can be a valuable training point to help you grow your cleaning business and great way on how to get clients for a cleaning business…Check out—> how to grow your online presence
Free advertising locations that may bring in leads
---
When I'm out shopping for personal or business needs, I often come across paper advertisements. These are not fancy or special - just simple, printed ads created right from your desktop printer. They typically feature a brief description of your cleaning business services, along with your business name and contact details. Small business owners in these places are usually quite approachable and friendly. All you need to do is ask them for permission, as they understand the challenges of running a small business. Chances are, they'll be willing to help you by allowing you to place your ads in a manner that doesn't disrupt their operations or displays. These uncomplicated ads have significant potential in attracting clients for your cleaning business and can be a valuable tool in learning how to grow a cleaning business.
1. Free cleaning for a referral:
---

Offering referrals fee to your clients or friends is a great way to gain more clients for your cleaning business. It's easy, simple, and can be rewarding, potentially leading to a chain reaction of new clients, one after another. Before you know it, you may need to hire more staff to keep up with the demand, which is great news! But when is the right time to start asking your clients for referrals? Is it after the first cleaning service or the second? In my opinion and based on my experience, neither of these options is correct. You should only ask for referrals when you genuinely believe that the client is satisfied with your work. But how can you tell when a client is satisfied? The answer lies in when they become a regular client. It's at that point that you can offer them a deal, saying, "Hey, how would you like to earn a free cleaning?
2. Local businesses:
---
Whether it's your barber, beautician, or even your local grocery store, each of these businesses has its unique customer base. If you have a good rapport with a local business, whether through past purchases or as a regular customer, you can consider asking if you can leave your business cards in their establishment. This simple act helps establish a form of credibility for your cleaning business and plays a vital role in growing your cleaning business. Local businesses often have a steady flow of customers, presenting you with an opportunity to reach potential future clients. The best part is that you can strategically place your business cards in areas where you want to attract clients for your cleaning business, furthering your efforts to grow your cleaning business.
3. Cash and carry:
---
If you've ever heard of a cash and carry stores such as jetro, restaurant depot or HLA then you probably understand the immense foot traffic these places experience. However, if you're not familiar with them, don't worry – I'll explain. Cash and carry businesses are essentially super wholesalers catering to both businesses and individuals looking to purchase items in bulk. In this context, you would primarily target business customers, such as restaurant owners, supermarket proprietors, and wholesale distributors.
Acquiring a business client for your cleaning enterprise is highly advantageous. They often pay more for services and are open to month-to-month contracts. When you frequent these establishments, you'll notice a wooden board near the entrance where people pin ads. If you intend to place your ad there, it's vital to make it stand out since this board tends to be quite crowded with various advertisements. This approach can be an effective strategy for growing your cleaning business.
4. Discount for a review:
---
As a cleaning business owner, you're constantly seeking ways to attract more clients and grow your cleaning business by all means and. One effective method is to accumulate online reviews, and Google serves as an excellent platform for this purpose.
What makes Google reviews particularly advantageous is that they prominently appear on your business listing when potential customers search for your services. This visibility allows them to read about the experiences of others, enabling them to make informed decisions about contacting your business. Positive reviews can significantly enhance your business's credibility and increase the likelihood of being contacted. If you haven't already set up a Google My Business account, you're missing out on valuable opportunities.
However, it's important to note that not all reviews are created equal. Securing positive reviews from your clients is essential even those cheap clients. In my experience, I used to incentivize my customers to leave reviews by offering a discount on their next order. I never dictated what they should write; I simply asked if they could leave an honest review on Google, and this approach worked wonders!
5. The 10 and 1 offer:
---
One of my personal favorites, which I like to call the "10 and 1 deal," revolves around the concept of fostering customer loyalty. When it comes to retaining clients in your business, there are typically three approaches to consider:
First, you can opt for an affordable pricing structure. Second, delivering top-notch service is crucial. The third strategy involves offering a special deal, and that's where the "10 and 1 deal" comes into play.
Here's how it works: You instruct a client to retain all their receipts. Every time they reach their 10th service request, the 11th one is on the house. Alternatively, you can initiate this deal at 5 services, followed by a complimentary 6th one, depending on what suits your business best. This method is employed by numerous businesses worldwide, including major brands like Dunkin Donuts and McDonald's, who occasionally feature such deals on their mobile apps.
If you believe that implementing this approach could help attract new clients or encourage repeat business, consider featuring it in your advertising efforts.
6.Bonus,Bonus! Craiglist:
---

Craigslist remains a valuable platform that I continue to use to this day. It has been a go-to destination for many when looking to purchase used gadgets, cars, or find service providers. While the title mentioned "free ways to acquire clients for a cleaning business," you might also consider a low-cost option on Craigslist. For just $5, you can advertise your cleaning business, and the ad will stay active for a full month. Given Craigslist's massive monthly traffic of hundreds of millions of visitors, it's an opportunity you certainly shouldn't overlook.
19 more places to grow your cleaning business ( free)
---
1. Google My Business (Free)
2. Facebook Business Page (Free)
3. LinkedIn (personal profile and company page) (Free)
4. Instagram (using relevant hashtags) (Free)
5. Twitter (with appropriate hashtags) (Free)
6. Nextdoor (local community platform) (Free)
7. Local community bulletin boards (Free)
8. Online forums and discussion boards related to cleaning or local services (Free)
9. Partner with local real estate agents and property management companies for referrals (Free)
1o. Free online classified ad websites (e.g., Gumtree, Oodle, FreeAds) (Free)
11. Join local Facebook groups or community pages and post your services (Free)
12. Utilize your personal network and ask for referrals from friends and family (Free)
13. Create a free listing on Yellow Pages or other online directories (Free)
14. Write blog posts or articles related to cleaning tips and share them on your website and social media (Free)
15. Share your services on local community apps like "Nextdoor" and "Neighbors by Ring" (Free)
15. Utilize free business listing websites like Bing Places for Business (Free)
16. Leverage free business listing websites that cater to your industry or local area (Free)
17. Engage in online discussions on platforms like Reddit, providing value and mentioning your services when relevant (Free)
18. Offer your services for free in exchange for testimonials or before-and-after photos that you can use in your marketing materials (Free)
19. Advertise in local print media or newsletters (Free - some local publications offer free listings).
How to get client contracts
Growing and getting clients for a cleaning business not just requires you to do great work but it also is important to be professional and one way is to get a customer in an agreement such as monthly or weekly service. In this section, we'll provide you with tips on how to create a favorable impression and win over that sought-after client.
Gaining clients for contractual agreements can be a challenging task, not only for cleaning businesses but for virtually all types of enterprises. Many people have reservations about signing contracts, and I can empathize with that sentiment. So, how can we address this issue? Here are three solutions to consider:
Solution one: You can completely avoid client contracts and adopt a pay-as-you-go service model. By doing so, you make clients seeking cleaning services feel more at ease, and if your service is top-notch, they are more likely to return for repeat business.
Solution two: If a client prefers a monthly service, offer them an agreement. There's a lot of buzz about agreements in the business world, but what exactly is an agreement? It's a legally binding contract that outlines the specifics of the arrangement. In this case, it ensures a smooth transaction – you provide a cleaning service, and they pay for it.
Solution three: Implement client contracts but with a cancellation option. We understand that people or businesses can face unforeseen challenges, and it's only reasonable to accommodate these situations. How can you make this work in your favor? Simply include a paragraph in the contract allowing the client to cancel with a 30-day notice. This provision reassures the client and eases their concerns about signing on the dotted line.
We've covered a lot, and understanding how to get clients for a cleaning business is crucial, especially when you're just starting. Launching a business can be challenging and costly, but it's essential to be creative and cost-effective. By avoiding wasted advertising expenses, you can redirect your funds toward other valuable investments, such as acquiring better equipment or hiring additional staff for your cleaning business.
As your cleaning business begins to generate profits and you're prepared to expand, you can consider investing in advertising, like Google AdWords or social media marketing. This strategic approach allows you to grow your cleaning business while making efficient use of your resources.
I hope this article has been helpful. Please share your experiences on how you've obtained clients for your cleaning business or any other business, and let us know what tactics have worked for you in growing your cleaning business.
---
---
---
Disclaimer: The information provided in this article is for general informational purposes only and should not be considered legal advice. The laws and regulations regarding business licenses may vary from state to state and are subject to change. It is important to contact your local state office to determine which licenses are required for any specific businesses. Additionally, please note that this article contains affiliate links and we may earn a commission from our affiliate partners or Amazon links. If you are considering starting a business, it is recommended that you seek the advice of a qualified lawyer, business broker, or professional in your area. The information provided in this article is not a substitute for professional advice and should not be relied upon as such.