Buying a Dietz and Watson route? Here's what you need to know!
---
Established in 1939, the grandfather Gottlieb Dietz. Gottlieb loved making quality meat, 4 generations later with so many ways to cook and prepare meats Dietz and Watson still prepare their meats the same fresh way as their beloved grandfather once did, with handcrafted spices and slow roasting the meats, with a slogan "it's the family thing' we can say they kept their promise which is great quality, they carry a large line of food products such as meats, cheese and more.
Can I Buy Dietz and Watson ROUTE?
YES! You can search Dietz and Watson routes for sale on bizroutes.com or you can browse online if none appear here, also don't forget to subscribe to get notified as soon as we get similar listings.
What is the process of owning a Dietz and Watson head route?
Building a customer base with the guidance of Dietz and Watson as they take pride in their deli products they expect the route owners to deliver great customer service, also taking down the customer's orders either in person, salesman, or over the phone and picking up the meat and delivering the product to customers.
How much can I make when buying a Dietz and Watson?
Each route differs from the other, it comes down to how many customers you service to how much product they buy a week. Technavio reported its 186 billion dollar industry and supermarkets are not going anywhere any time soon. Maybe technology has changed and you can get almost everything shipped, but buying a sub we don't need that shipped.
Where are Dietz and Watson's products sold?
Dietz and Watson is a nationwide brand, that serves in stores and also online, Your customers will be a mix of stores, supermarkets, and grocery stores, so if you don't see a route for sale you can always contact them for partnering opportunities near you.
Are Dietz and Watson a good brand?
The Dietz and Watson brand has been making provisions for many years and they are committed to great service and a wonderful brand, running Dietz and Watson brand is a great opportunity, as their meats, cheese, and hot dogs are loved nationwide
What type of trucks do Dietz and Watson use?
They use a medium size commercial truck with a refrigerator embedded on top, this keeps the meats and cheese fresh for delivery, and smaller delivery, they use a fridge cargo van, it all depends on the size of your diet and Watson route.
BizRoutes view on dietz and watson
Dietz and Watson is a brand recognized by millions of people nationwide, it is a reputable company with a great business concept, and the business itself competes with other companies like boars head and thumann's, Dietz and Watson is a family business that stands for transparency, quality and has many choices!!
To the best of our knowledge, the information provided on this website is not intended to be taken as professional financial advice. Consult a professional financial or tax expert if you require this advice. To help you make the right decision, we do our best to keep things as objective as possible.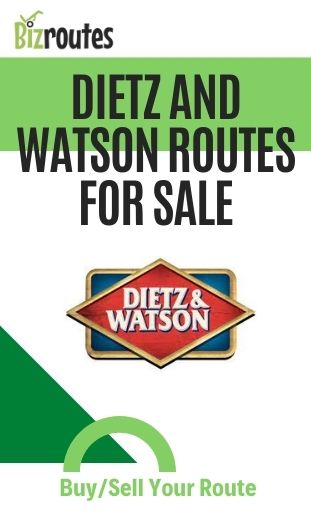 Become business smart!
Similar Articles
We highly recommend you register as a buyer, by doing so you'll get notified as soon as a Dietz and Watson routes and other listings become available for sale in your area.
Check these out...
No Listings Found
Make sure to register below so you will never miss an opportunity