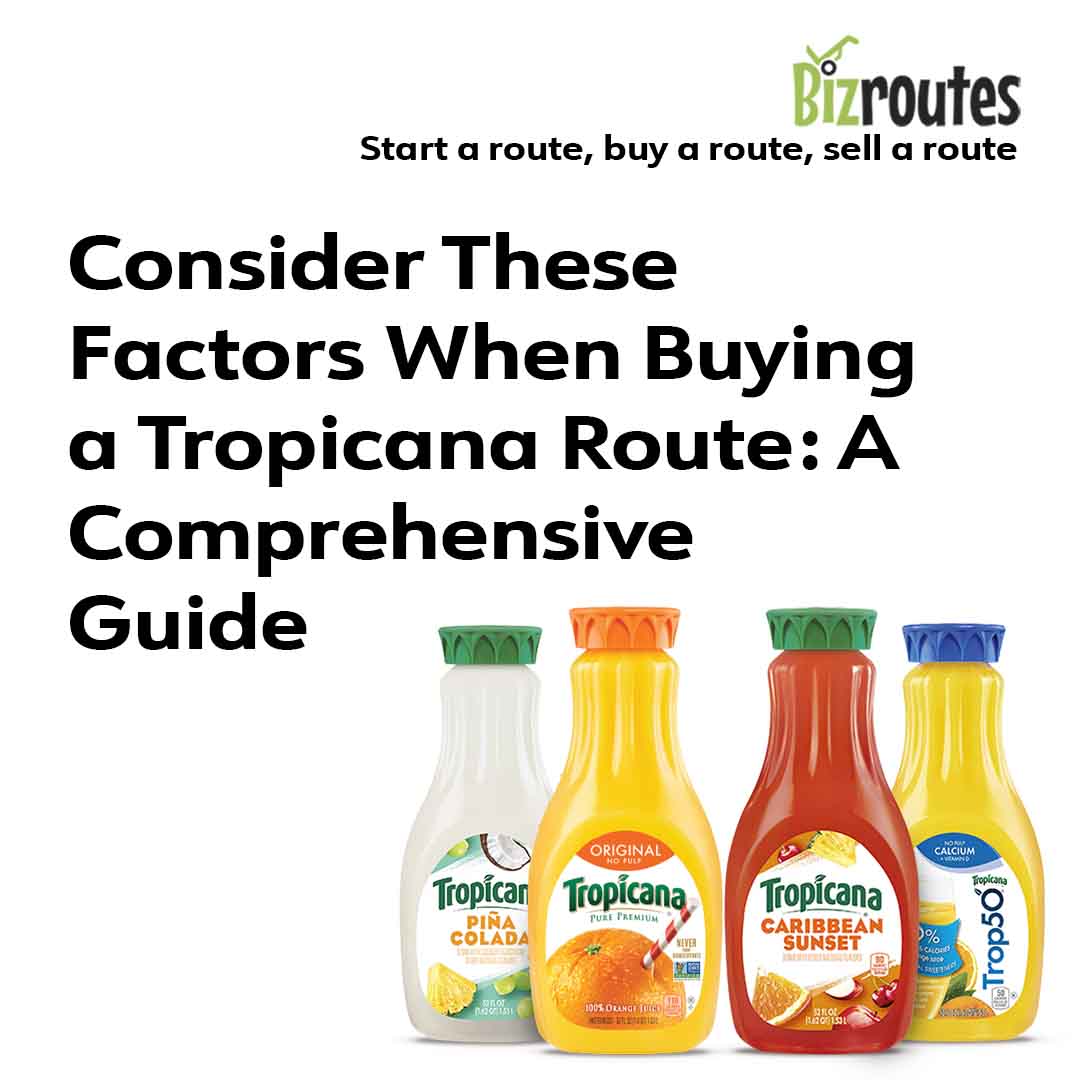 Become business smart!
We highly recommend you register for free as a buyer, by doing so we will be able to send you more business ideas to start and get notified as soon as a Tropicana Route For Sale is available for sale
Check out these other routes for sale
The Ultimate Guide to Buying a Tropicana Route: Everything You Need to Know Before Making a Purchase
---
Q1: Why buy Tropicana routes for sale?
When it comes to distribution routes, you'll want to invest in name brands such as Tropicana routes for sale because everyone is familiar with this juice brand. Whether it's school-aged children or office employees, their lunch bags can be packed with a Tropicana beverage, to provide them with the daily dose of Vitamin C which helps support a healthy immune system. About 75 years ago, Anthony T. Rossi founded an innovative way to make the freshest orange juice by developing flash pasteurization. Thanks to him, we now enjoy the amazing taste of 16 fresh oranges in a 56-ounce container. Did you know that the United States is the third-largest consumer of orange juice, having an intake of 52.6 liters a year per person?
Tropicana comes in a variety of different flavors and sizes. From mixed fruit to low sugar to infused-vitamin drinks, whatever your taste buds are craving, Tropicana is sure to satisfy your thirst. Name a fruit and Tropicana most likely concocted it into one of their drinks. Tropicana products consist of Pure Premium drinks such as 100% juices, with and without pulp, added vitamins, and low acid. They also offer Trop50 which has half the sugar and calories of the original Tropicana beverage. Tropicana drinks, Tropicana single-serve, and Tropicana Tropics are also available in their full line of products.
These are among many reasons why Tropicana Pure Premium was the leading refrigerated orange juice brand in the USA in 2017. Within the orange juice brand category, Tropicana Pure Premium had the highest share at 31.7 percent. In 2016, the brand generated sales of around 54.16 million U.S. dollars. But enough about this amazing product, let's discuss how you can benefit from owning a Tropicana juice route for sale.
Q2: What are the benefits of Tropicana routes for sale?
The consumer base is not only your local store owners but also restaurants and schools. Pharmacies, supermarkets, wholesale stores, and even shopping centers like Target and Walmart all have Tropicana products in stock. You should have no problem finding new accounts for your territories!
The company has even introduced "Healthy Kids" which contains 100 percent pure juice and has important vitamins they need to support their growing bodies. It even comes in a "fruit and veggies" flavor. Now, which parent wouldn't want this Tropicana beverage in their child's lunchbox? This is obviously a smart step on the company's part.
Tropicana has also collaborated with non-profits and is trying to reduce its carbon footprint by encouraging carbon recycling and supporting forest sustainability. People can buy special promotional packages and be a part of a good cause.
When it comes to their packaging, Tropicana uses recyclable PET plastic and their new package design also makes it easy to pour the drink. It also comes in different packaging sizes; 10-, 14-, 16-, 52-, 118-, and even 128 oz.
This brand extracts 34,000 oranges per minute and the plant processes 48 million oranges and fills 2.5 million containers in one day. Impressive, right?
The good news is that with such a massive production line, there are plenty of Tropicana routes for sale. So, what's better than supplying fresh fruit juice with wonderful packaging and high sales?
Let's break it down more!
Q3: Who does Tropicana serve?
Who wouldn't want to be a part of Tropicana's service? When buying a Tropicana juice route sale, rest assured that finding customers will not be an issue. Your customers will range from all over, including supermarkets, grocery stores, gas stations, and even big wholesalers like B.J.'S.
Start Your Entrepreneurial Journey: Own a Pepperidge Farm Route and Deliver Quality Products
Q4: Are Tropicana routes protected?
After buying a Tropicana route, your route is protected, but always consult with the business broker and have it in writing which areas and stops are secured. You can also have a "protected stop" which means that if you were able to persuade a business to sell your Tropicana products, that specific spot is guaranteed to be yours only.
Q5: Do I need a CDL to drive a Tropicana route?
Tropicana routes take on a lot of inventory, so the cases are pretty heavy. It will require a bigger box truck to stock up all the juice and accommodate your Tropicana beverages, so a CDL license will be required to operate the truck. When purchasing or leasing a truck, make sure you choose a refrigerated one so your products are delivered fresh and cold to their final stop.
Q6: How do Tropicana distributors make money?
Tropicana, a subsidiary of PepsiCo, makes money by selling a variety of fruit juice products. The juice is packaged in various sizes and sold to distributors, who then sell it to grocery stores, supermarkets, and other retail outlets. The distributors make money by buying the juice from Tropicana at a wholesale price and then selling it at a higher retail price. The difference between the wholesale and retail prices is the profit for the distributor.
In addition to the juice products, Tropicana also sells other items such as juice blends, smoothies, and juice boxes, which can provide additional revenue for the company. Additionally, Tropicana may also earn money through licensing deals, such as using its brand name on other products, or through partnerships and sponsorships.
Overall, the success of Tropicana and its distributors largely depends on factors such as the demand for its products, effective marketing and branding, and the ability to keep costs low while maintaining high product quality.
Q7: How do Tropicana distributors get paid?
Tropicana route distributors are typically paid by their customers through invoicing and payment processing. The exact payment process may vary depending on the individual distributor and the customers they serve, but here are some common steps:
Invoicing: The distributor will create an invoice for the products delivered to the customer, which will include the total amount owed for the products and any relevant taxes or fees.

Payment terms: The distributor will typically include payment terms on the invoice, such as the due date for payment and any discounts offered for early payment.

Payment processing: The distributor may accept payment by various methods, such as a C.O.D. check, credit card, or bank transfer. The exact payment methods accepted will depend on the distributor's preferences and the customers they serve.

Payment collection: The distributor is responsible for collecting payment from the customer, which may involve following up with the customer on the payment status and taking appropriate action to collect payment if necessary.
It is important to note that the payment process for Tropicana route distributors may also be subject to various state and federal regulations, such as tax laws and financial reporting requirements. The distributor should ensure that they are aware of and compliant with all relevant regulations.
Q8: Why is buying a Tropicana route better than becoming an independent beverage distributor?
Buying a Tropicana route is considered to be better than becoming an independent beverage distributor for several reasons:
Established brand recognition: Tropicana is a well-known and established brand, and owning a Tropicana route gives a distributor immediate recognition and credibility in the market.

Proven business model: Tropicana has a proven business model that has been successful for many years. By buying a Tropicana route, a distributor can benefit from the company's experience and expertise in the beverage industry.

Access to resources: As a Tropicana route owner, a distributor will have access to various resources provided by the company, such as training, marketing support, and distribution networks.

Customer base: Buying a Tropicana route comes with an established customer base, which can help a distributor generate revenue immediately and minimize the risks associated with starting a business from scratch.

Potential for growth: As a Tropicana route owner, a distributor has the potential to grow the business by expanding their customer base, offering new products, and leveraging the brand recognition of the Tropicana name.
On the other hand, starting an independent beverage distribution business from scratch can be more challenging and require more effort, as the distributor must build brand recognition, establish a customer base, and develop a successful business model. However, being independent also offers greater control and flexibility over the business.
Q9: What are some pros and cons of owning an independent beverage distribution business?
Pros of owning a beverage distribution business include:
High demand for beverages: Beverages are a staple in people's daily lives and the demand for them is always constant, which can provide a steady stream of income for the business owner.

Multiple revenue streams: Beverage distribution businesses can generate revenue from various sources, such as wholesale sales to retailers, direct-to-consumer sales, and special events and promotions.

Potential for growth: With the right marketing strategies and product offerings, a beverage distribution business has the potential to grow and expand its customer base over time.

Flexibility: Many beverage distribution businesses can be run on a flexible schedule, allowing the owner to balance work and personal life.
Cons of owning a beverage distribution business include:
High competition: The beverage industry is highly competitive, and it can be challenging for a new business to establish itself in a crowded market.

Regulatory compliance: Beverage distribution businesses must comply with various state and federal regulations, such as labeling requirements, alcohol licensing, and taxes. This can be time-consuming and complex.

Supply chain management: Managing the supply chain of a beverage distribution business can be challenging, as the owner must ensure a steady supply of products, manage inventory levels, and maintain strong relationships with suppliers.

Capital intensive: Starting a beverage distribution business can require a significant amount of upfront capital for purchasing inventory, marketing, and operating expenses.

Bizroutes review on Tropicana routes
Buying Tropicana routes for sale is like any other investment, they all have some type of risk, but a Tropicana route can become very profitable. Tropicana routes come at a hefty price, about $200,000 and up. The reason for the high price is that the brand has an incredible business concept; they are fully supportive of their route owners and the profit margins are great.
---
Disclaimer: The information provided in this article is for general informational purposes only and should not be considered legal advice. The laws and regulations regarding business licenses may vary from state to state and are subject to change. It is important to contact your local state office to determine which licenses are required for any specific businesses. Additionally, please note that this article contains affiliate links and we may earn a commission from our affiliate partners or amazon links. If you are considering starting a business, it is recommended that you seek the advice of a qualified lawyer, business broker, or professional in your area. The information provided in this article is not a substitute for professional advice and should not be relied upon as such. We want to make it clear that BizRoutes is not sponsored by or affiliated with tropicana or any other companies mentioned in our articles. Our content is completely independent and based solely on our own research and opinions.
Sort by yearly earning
Select services type
No Listings Found
Make sure to register below so you will never miss an opportunity