Snapple routes for sale
---
Here's what you need to know!
When searching beverage routes for sale, you can choose independent beverages or you can go with New York's favorite Twist and Pop! Ring a bell? Snapple. If you wanna be a part of the dynamic beverage company, now is your chance by buying Snapple routes for sale! Snapple beverages are known across the nation and the globe. They come in all sizes from 8 oz and up and people love them. You can find them in almost every store, gas station, and wholesaler like Costco!
---
What are the products sold by Snapple?
The main products of Snapple include many flavors of iced tea and lemonades, fruit punch, and other diet drinks. You can give a customer a branded fridge with the Snapple logo wrapped around it, and this will help boost sales because the customer will have more options to choose from.
---
What trucks are used for these routes?
Beverage trucks are ideal since they have sliding doors that make it easy to offload to businesses.
---
Who does Snapple service?
When buying a Snapple route for sale, it will come with all sorts of customers, from supermarkets to groceries and bodegas, to wholesale stores and even bars and restaurants.
---
What is the nature of the work required?
The business will require labor you hire a driver and a helper, but this will take away from your profit. The work consists of loading and offloading cases from your truck to the business or customer. Some customers, like supermarkets, have loading docks while others may request you to carry them up or down stairs to their storage areas.
---
Is a Snapple route profitable?
A Snapple route is very profitable as you earn money per case sold. Each route is different depending on the number of customers you have and also the type of customers. For example, if you have more wholesale customers, the profits may be thinner, but they will buy more, so it balances out. You can make $2,500 and up a week on weekly net profits.
---
How do Snapple routes make money?
After purchasing your Snapple product, you mark up your profit based on Snapple market prices. At times, you can offer deals to customers when buying a large bulk order. All of this depends on your wholesaler.
---
How to grow my Snapple route business?
Once you acquire a Snapple route for sale, you are protected with a secure route. The rest depends on getting leads and referrals.
---
Is a Snapple route a good investment?
If you are buying this as a second business and will not be driving the route yourself, then you can operate it by taking orders or managing the route schedule. The tasks involved are simple, such as answering calls collecting balances, and GPS tracking your trucks.
---
What license do I need to drive a Snapple truck?
Depending on the size of the truck, typically a beverage truck requires a CDL license. Check with your local DMV agency to find out for sure.
---
Are there Snapple routes available for sale?
YES, you can find Snapple routes for sale today!
---
Bizroutes review on Snapple routes for sale
Buying a Snapple route for sale consists of physically working to deliver the product and taking orders to deliver thousands of cases a week. Snapple routes make a great net income, but it takes work, and the best way to maximize your weekly earnings is to be fully dedicated to the business. Overall, Snapple routes are a dime a dozen, and the brand speaks for itself.
---
To the best of our knowledge, the information provided on this website is not intended to be taken as professional financial advice. Consult a professional financial or tax expert if you require this advice.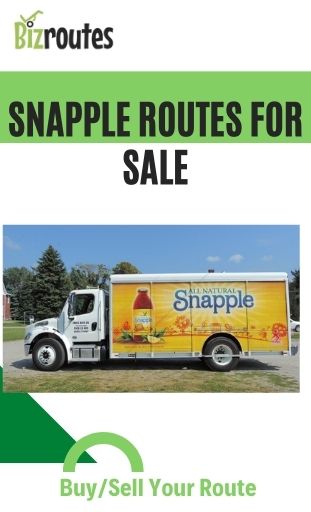 Become business smart!
Similar Articles
We highly recommend you register for free as a buyer, by doing so we will be able to send you more business ideas to start and get notified as soon as a Snapple routes for sale is available for sale
check these other routes for sale ...
No Listings Found
Make sure to register below so you will never miss an opportunity