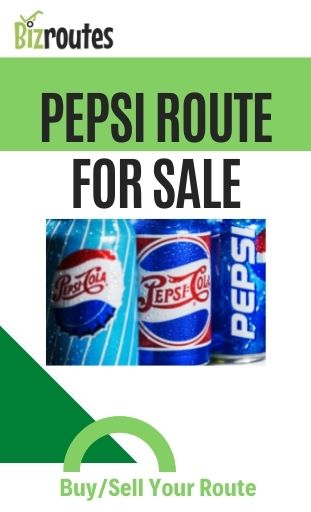 Become business smart!
Similar Articles
We highly recommend you register as a buyer, by doing so you'll get notified as soon as a Pepsi route for sale and other listings become available for sale in your area.
Check these out...
Glaceau Vitamin Water route for sale
Buying a Pepsi route for sale?
---
Here's what you need to know!
what exactly is a Pepsi route?
Imagine how it would be delivering one of the most consumed beverage drinks in the United States with billions of sales each year and vast prospects. If you want to buy a distribution route for sale then keep reading. Let's find out why buying a Pepsi route for sale might or might not be a good investment!
---
What is the Pepsi brand about?
PepsiCo supplies 21 beverages under its name ranging from fizzy drinks to water, and juices. This New York-based company has a brand value of 234 billion USD and it earned 70 billion dollars in net revenue in 2020 according to Wikipedia.
As already mentioned, the company sells around 20 products. Most of these can fall under the Pepsi route, for example, some Tropicana drinks, Starbucks, sparkling water, and coconut water. Soda products range from canned, 20 oz, and 2-liter soda packaging.
Transporting these lightweight, recyclable plastic bottles is a great opportunity for route owners.
---
What are the day-to-day tasks of a Pepsi distributor?
The main errands include handling the products and filling the shelves of the stores. Picking up products from the Pepsi factory and delivery of used bottles from retail stores back to the factory might also be a part of the daily responsibilities.
The Pepsi routes that you buy are most likely territory bound. This means that you have a hold of a certain amount of accounts.
---
Is owning a Pepsi route hard?
The working of the route isn't that hard.10,000 cases can be loaded and unloaded per week to upwards of 150,000 cases. The work gets more manageable with 1 or 2 helpers.
---
What type of trucks are used?
Beverage trucks with sliding doors make it easier to navigate through inventory on your truck.
---
Are there Pepsi routes available for sale?
Yes. Keeping all these facts in mind, PepsiCo continues to grow. So, Pepsi's route for sales is an opportunity to seize. The main customer base would be local stores, restaurants, canteens, and even bars. And there you'll go, providing Americans with their daily dose of quality products!
---
How do Pepsi route owners get paid?
Pepsi route owners get paid just like any other distributors, they deliver the products and get paid COD. There is no bill to bill or net 30, you deliver you get paid.
---
Are Pepsi routes for sale secured?
After finding a Pepsi route for sale, you will get a secured route with protected stops. This protection does hinge on following Pepsi's high standards, including treating its customers extremely well with great service and on-time delivery.
---
Bizroutes review on Pepsi routes for sale.
Buying a Pepsi route for sale is a great investment. They are very profitable and businesses nationwide request Pepsi as one of their first products in their businesses. These businesses have a Pepsi fridge set up which allows you to stock it with all Pepsi products. PepsiCo is always growing and finding great products to acquire. The more products under the brand's belt, the more items you can sell. If you don't mind a little work, then Pepsi just might be a great investment and career.
To the best of our knowledge, the information provided on this website is not intended to be taken as professional financial advice. Consult a professional financial or tax expert if you require this advice.
Sort by yearly earning
Select services type
No Listings Found
Make sure to register below so you will never miss an opportunity