Buying a fedex route?
---
Here's what you need to know!
FedEx routes are always available for sale. It is a great business, if you are looking to own delivery routes, are one of the most popular routes available for sale. Hundreds of millions of packages are delivered to residential addresses every year through FedEx service. With a great surge in e-commerce, many people are looking to buy things online. This factor leads to companies like FedEx having an increase in their popularity.
When buying FedEx routes for sale you will get to decide what type of FedEx service to offer, home delivery or even nationwide delivery, they provide its services in all 50 states of America. The package size and weight are 180 " and 150 lbs. respectively.
FedEx home delivery has certain types too:
Delliveries from Tuesday to Thursday during day hours such as 9 am to 8 pm
deliveries from Tuesday to Thursday during night hours such as 5 pm to 8 pm
delivery time and date selected by the customers between 9 am to 8 pm from Tuesday to Thursday.
The number of employees is normally two; one is the driver and the other is a driver assistant who manages the delivery of products. The requirements for the route buyer include a valid CDL license with a clean driving record. Apart from that, it's always better to have some previous experience in the business so you know how to deal with the customers and employees. The vehicles used are smaller than those used on other FedEx routes.
Talking about the revenue generated, the figures vary from season to season. They're highest during the days near a holiday such as Christmas.
---
Are FedEx Routes a good business?
FedEx routes provide small business owners with the potential of a great business opportunity. FedEx Routes are a strong and growing business. The FedEx route business model is extremely lucrative and long-term. It's been here for decades and is only growing with time, especially since the e-commerce revolution. So you don't have to worry about FedEx going out of business in the future, which almost guarantees future sustainability and financial security. FedEx routes can be highly profitable, but they may not offer the full potential profitability of starting a business from scratch. If you invent something new or capitalize on a new market, you could conceivably make more money that way. The beauty of a FedEx route investment is that revenue and expenses are consistent and predictable. When you buy FedEx routes for sale, you're buying the revenue stream. You need to work to model the revenue stream. Additionally, you need to identify efficiencies in the expenses.
---
How many FedEx routes can I own?
Once you decide, there is no limit on how many routes you can own. In fact, numerous FedEx Ground contractors own and operate upwards of 50 to 100 routes. But for those just starting out, 5 to 10 routes may be a more manageable number and enough to provide a solid return on your investment.
---
How much you can Make with the Routes?
When you own a FedEx route and work as a contractor, you have income in various forms. This variation level helps you because it ensures that if the market downfalls or skyrockets, you can remain on your feet. The yearly average profit for a FedEx route has been reported at between $30,000 – $40,000. While this might not seem like you are going to be a millionaire, the best part of owning a FedEx route owner is that you don't have to own just one.
---

BIzroutes review: FedEx routes for sale is a recognized brand nationally and globally, buying a FedEx route can be a good investment.
To the best of our knowledge, the information provided on this website is not intended to be taken as professional financial advice. Consult a professional financial or tax expert if you require this advice.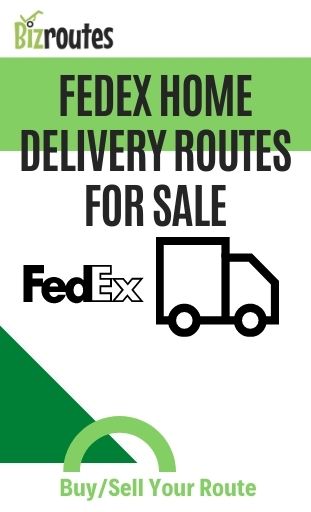 Become business smart!
Similar Articles
We highly recommend you register as a buyer, by doing so you'll get notified as soon as UPS routes for sale and other listings become available for sale in your area.
Check these out...
grocery delivery business for sale
No Listings Found
Make sure to register below so you will never miss an opportunity