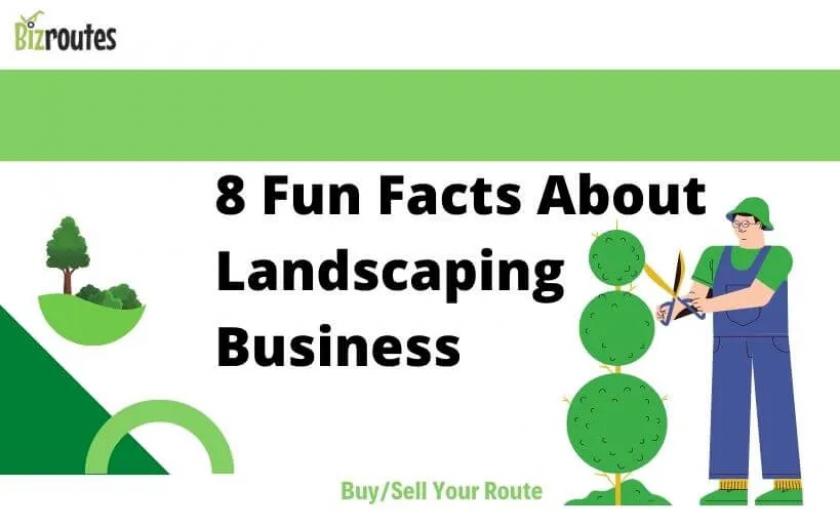 Want to be a Landscaper? Here are some fun facts about landscaping
No one ever said starting your own business was easy, but it can be especially difficult when you're starting from scratch. If you're in the market for a landscape business, there are a few key benefits you should keep in mind and some fun facts about landscaping you will love to read more on below. First and foremost, buying an existing landscape business means that you already have a customer base and brand recognition. You also get to take advantage of the hard work and years of experience the previous owner has put into building the business.
So if you're thinking about making the jump into entrepreneurship, buying a landscape business might be just what you need. When running a business, being passionate about what you do plays a big role. Landscaping is a business that never gets boring, the trees blossom the butterflies in the air, and the smell of fresh grass! But before we get into some fun facts about landscaping here are some real facts
If you're thinking of buying a landscape business, it's important to know the facts.
Here are some fun facts to consider before making your decision.
1. The landscape industry is over a 100 billion dollar industry
2. Landscaping is one of the fastest-growing industries in the country.
3. There are more than 500,000 landscape businesses in the US.
4. The average landscaping business generates over $250,000 in revenue each year.
5. The average landscaping business has 11 employees.
6. over 50% of small businesses fail within their first five years, so it's important to do your research and make sure you're prepared for everything that comes with owning
1. Seasonal business :
When it comes to seasonal businesses, most people think of things like Christmas trees or pumpkin patches. But what about landscaping? Is it a seasonal business? The answer is a little bit trickier than you might think. Let's take a closer look at the pros and cons of landscaping as a seasonal business. Grass still grows in winter, it might grow slower but it still needs to maintain and homeowners year-round want their landscape well presented. Customers still want their trees trimmed, dead plants removed, and fertilized lawn, and when a business does slow down a few you can always more service to get you by the cold season.
2. Greener world:
Landscaping is often seen as a way to make our properties look nicer, but there are many other benefits to landscaping that we may not be aware of. Landscaping can help conserve energy, improve air quality, and even help the environment. Keep reading to learn more about how landscaping can benefit the earth! There's a lot of talk about the environment these days, and more people are looking for ways to go "green." While some changes can be difficult, like giving up your car or using less energy in your home, others are easier and can make a big impact. One change you can make is to landscape your yard in a way that benefits the earth. Here are some cool and fun facts about landscaping that will show you why it's good for the planet:
Landscaping helps to protect the environment.
Landscaping aids in the purification of the air.
Landscaping has a cooling influence on the environment.
Different plant species can thrive in their native habitats thanks to landscaping.
The usage of energy can be reduced by up to 30% when trees are planted around a residence.
3. Raises your property value :
Did you know that if you invest in landscaping for your home, it will not only increase the beauty of your property but also raise its value? According to recent studies, well-maintained and attractive landscaping can add up to 20% to the resale value of a home. So if you're thinking of putting your house on the market soon, now is the time to start sprucing up the yard!
In addition to increasing a home's resale value, landscaping can also provide other benefits. It can help reduce energy costs by providing shade and cooling relief during the summer months, and it can act as a natural barrier against wind and noise. By incorporating trees, shrubs, flowers, and clean-cut grass.
Introducing this to new clients can potentially score you more business.
4. Great workout :
One fun fact about landscaping is how you get a great workout When most people think of working out, they picture going to a gym, lifting weights, and running on a treadmill. While this is one way to work out, many other options can be just as effective – and much more fun. Like landscaping, if you Are looking for a fun and challenging way to work out while making money at the same time then landscape may be the perfect option for you! Contrary to popular belief, the landscape is a great form of exercise that can provide you with plenty of physical and mental benefits. Did you know you can burn up to 300 calories landscaping, and also landscaping can be great for you mentally as well as physically?
5. Build a landscape empire:
Plants aren't just a decoration; they're essential to our survival! Indoor plants create a sense of peacefulness in a room, while outdoor plants add beauty to our surroundings, but what else comes with landscaping? Is it cutting grass and planting flowers?
Well with the landscape there are many services you can add to your business here are 5 types of services you can add:
Sprinkler system:
A functioning sprinkler system is key to a healthy landscape. The right sprinkler system can help your customers save water and money while keeping their plants looking great.
Snowplowing:
It's that time of year again when the snow starts to fall and businesses have to decide whether or not they will offer snow plowing services. As it gets a little slow with planting flowers you can add this service for extra income
Masonry work:
Masonry work is a crucial part of many landscape businesses. It involves creating and shaping stone and brick structures such as walls, columns, and walkways. Masonry work can be extremely challenging, but it's also a very rewarding trade, as it brings out more appeal to landscaping, red brick walkways are stunning!
Building decks:
Decks are a wonderful addition to any landscape. They provide a great space for outdoor living and can be customized to fit any size or style of home. If you're thinking about building decks for your landscape business, then start learning what's a better view than sitting on a deck looking at the beautiful landscape.
Tree removal:
If you're a business owner who provides landscaping services, then you likely offer tree removal as one of your services. It's important to be well-versed in the process of removing trees, whether it's a small or large tree.
Conclusion paragraph: Fun Facts About Landscaping
If you're looking for a fun and rewarding job, landscaping might be the perfect fit. This article has given you some great information and fun facts about landscaping, so if you are considering buying a business route for landscaping or even starting a landscape business from scratch, you should give it a shot!